If you're taking a trip to explore a new city, lay in the sun on the beach, or visit long-distance family or friends, making sure your home is safe while you're away is often a top priority. Avoid those anxiety-inducing thoughts of "Did I leave the lights on?" or "Is someone sneaking around my house?" by taking the steps to help protect your home against unwanted visitors and make your home feel secure while you're enjoying some time away with Philips Hue.
1. Make it look like you're home with light
While keeping the house tidy may discourage some burglars, others will notice the lack of activity — namely, the lights. With its simple setup and wireless installation, the Hue White Starter kit is the best way to get started with automating your away-from-home moments. The Hue app allows you to automate your lights so that it looks as though you're going through your daily routines as usual. Set lights to come on in the morning, in the afternoon, and during the evening — sometimes even at random intervals — to mimic your presence and help deter unwanted guests.
TIP: If you want to take it a step further, use a smart home security device that can add an extra layer of protection. A smart doorbell or camera can act as a motion sensor, while a smart smoke or CO2 detector can send you a text if something's amiss at home. Learn more about which smart devices work with Hue.
2. Make it look lived in
The most inviting sight for a burglar is a house that looks empty. When you know you're going to be away for an extended period of time, take some precautions to help prevent that "nobody's home!" appearance to suspicious individuals. Suspend your newspaper delivery so that it doesn't start piling up, and make sure that you have a trusted neighbor to pick up your mail if you'll be goen for an extended period of time.
TIP: Schedule your path lights, such as Calla bollards or the Outdoor Lightstrip, to turn on when the sun sets. Having the lights on after dusk makes it look more like someone is home, helping to deter unwanted guests.
3. Automate your outdoors with light
For an added sense of security, pair your Hue smart lights with an Outdoor sensor. The sensor detects movement and turns on your selected light or lights to potentially scare away an intruder. Because it's able to trigger both indoor and outdoor lights using motion, it is a believable sign that someone is home — even when you're not.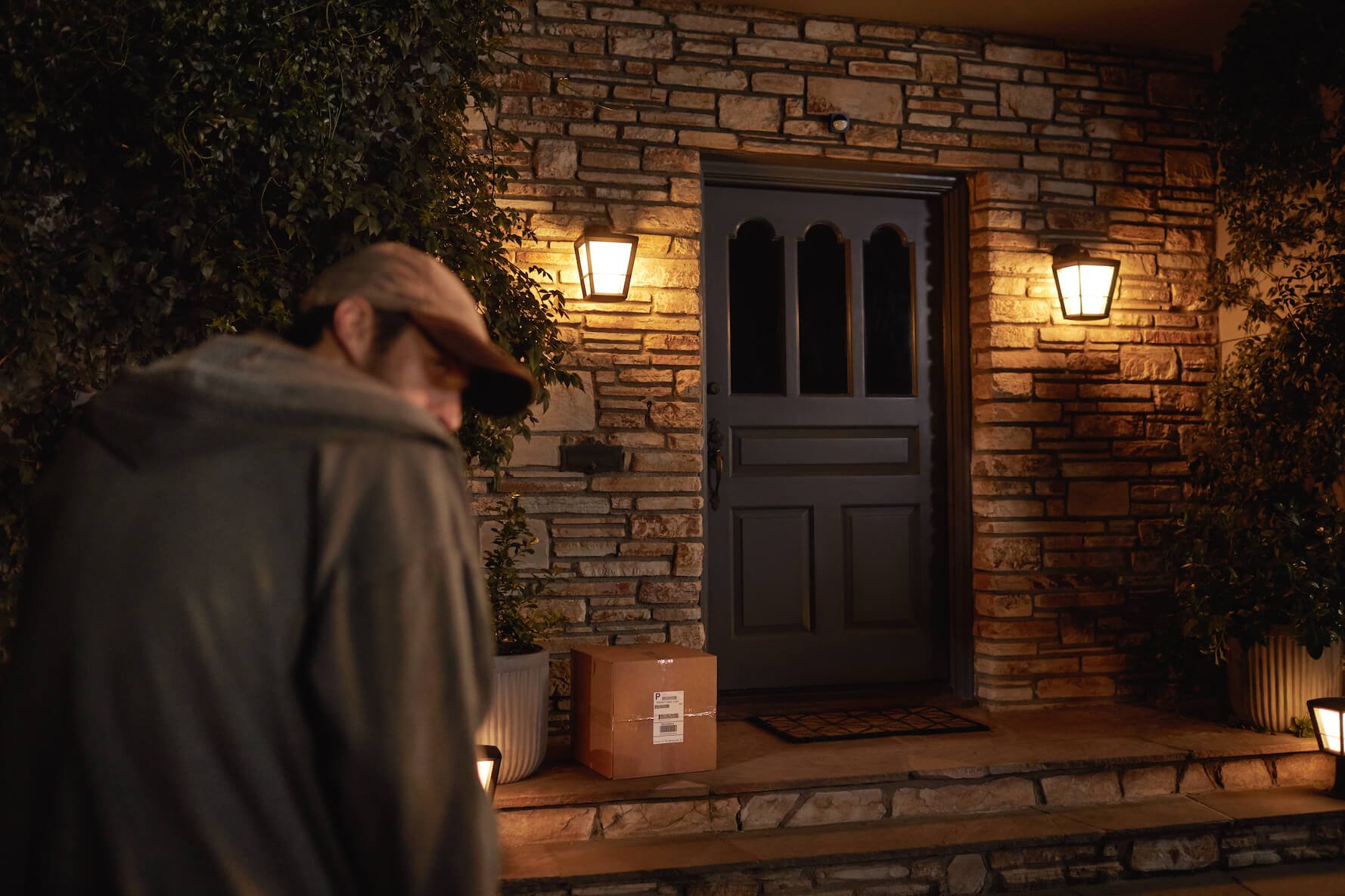 TIP: Don't just place an Outdoor sensor on your porch intruders may not be so polite as to knock on your door! Set up an Outdoor sensor and Welcome floodlight at your home's most vulnerable points of entry, such as a side window, backdoor, or basement entrance, to get a better feeling of security and light the darkest corners of your backyard.
4. Prevent other "intruders"
Burglars aren't the only ones who can invade your space — ants, spiders, flies, mice, and other critters can make your house their home while you're away. Clean out your refrigerator and pantry, disposing of all the food that will spoil before you return. Make sure you clean up any spills, leftover food, or dirty pots and pans in the kitchen sink, too —otherwise, pests will love that you left them a little snack!
5. Turn it off and turn it down
A good way to ruin a perfect vacation is arriving home to an extraordinary energy bill or ruined electronics due to a power surge. To help decrease the chances of these unfortunate circumstances, unplug what you don't need: the coffeemaker, televisions, washing machine, and dryer, for example. You can also adjust your thermostat to be a few degrees cooler in the winter or warmer in the summer.
TIP: Forget to turn off the lights? With the Hue app, you can put your mind at ease with away-from-home control. Just open your app to see if your lights are on — and, if they are, turn them off with just a tap of a button!
Going away for the short- or long-term doesn't have to leave you worrying about your home and its security. Taking the proper precautions — such as setting light routines and installing a motion sensor — can help you avoid any surprises upon your return.