Forget about creating the brightest house on the block this Halloween — using smart light, you can create the spookiest! Bewitch your trick-or-treaters and give your guests a fright by turning your home into your favorite type of Halloween haunt: a ghoulish graveyard, a witch's den, or a monster's mansion — all with the right indoor and outdoor Halloween lights.
Create an outdoor Halloween light show
The outside of your home is where you set the stage for spookiness, so use smart light to bring your house to life (or death, that is!).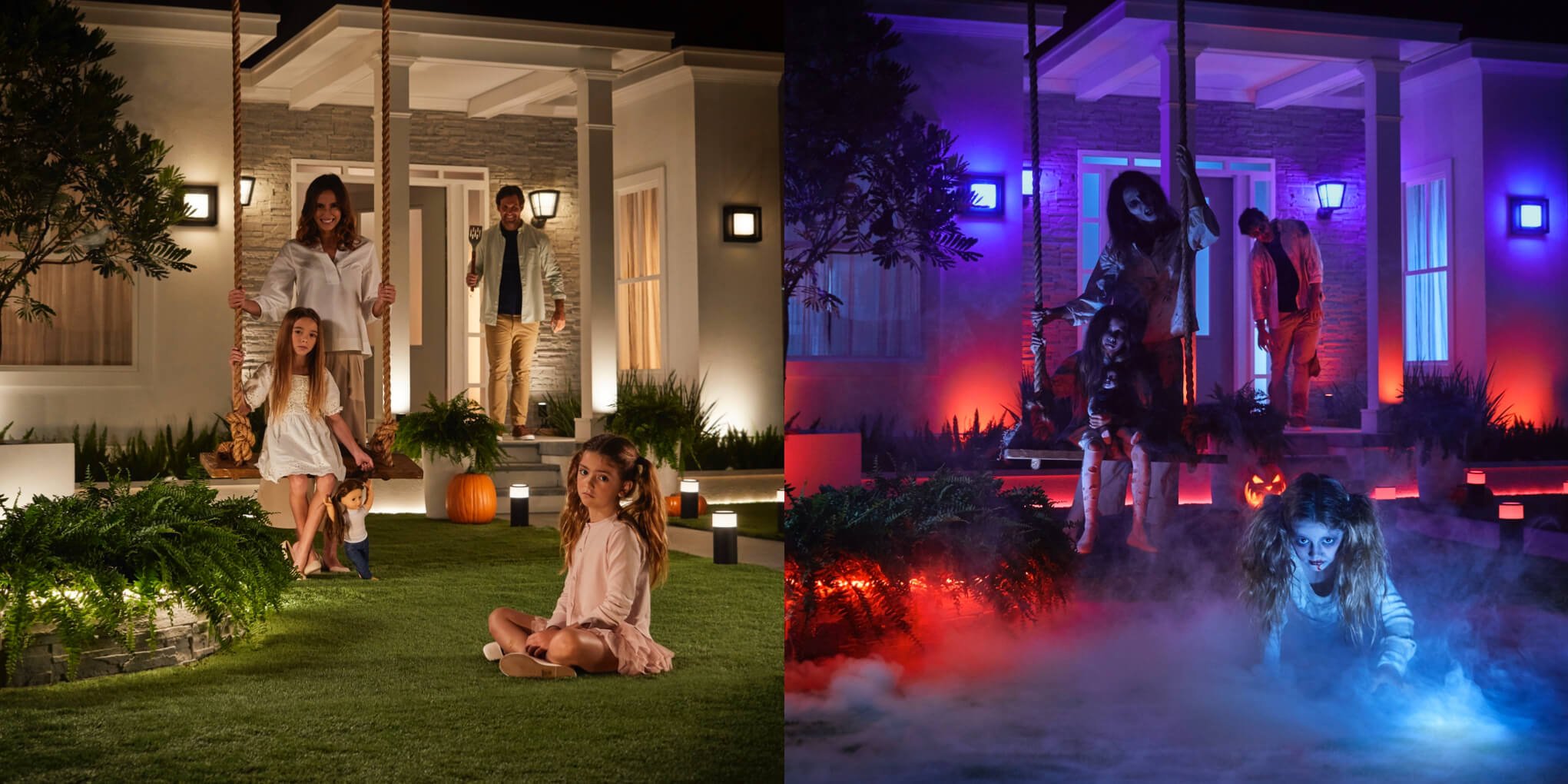 1. Paint the pathway with light
Only the bravest trick-or-treaters will dare to approach your door when you use smart light to illuminate the path. Set an ominous tone with the Outdoor Lightstrip, which allows you to use any one of millions of colors — our favorites are orange, purple, or green — to creep out your Halloween visitors.
2. Turn your front yard into a graveyard
Using cardboard and spray paint, create a cemetery in your front yard. Place your Lily spot lights between headstones to cast light — and shadows — onto your spine-chilling spectacle.
Bright idea: If you have an Outdoor motion sensor, make it even scarier to approach with Halloween pathway lights. First, shroud your pathway in darkness. Set the sensor to turn your lights on to a deep blood red when an unsuspecting guest or trick-or-treater approaches — hopefully, they will still want to come to the door!
Create a haunted Halloween inside with light
Whether you are just waiting for the next group of trick-or-treaters or throwing an epic Halloween bash, you can transform your home to be just as eerie inside as it is outside.
3. Greet your guests with a special spooky scene
If you; are keeping your front hallway light on to let the neighborhood know you are home, change it up to greet your guests. Use your voice assistant to trigger a special light scene as someone comes up to the door. Create a custom voice command in Alexa, Siri, and the Google Assistant — Shortcuts in Siri and the Google Assistant, a Routine in Alexa — that is tied to a special light setting you create. Dim the lights down low or cast your hallway in orange, purple, green, or whatever color you like — there are, after all, 16 million options!
Bright idea: It's alive! Use the Hue Labs Halloween living scenes formula to not only cycle through colors but dim and brighten them to create a (frightening) light show.
4. Upgrade your jack-o'-lantern
No one likes a rotting pumpkin — or a fire hazard! DIY a faux jack-o'-lantern you can use inside that will last a lifetime (with no need for candles). Place the portable Hue Go inside your decorative pumpkin and set it to a creepy glow or use the Hue Labs Candlelight scene for a more realistic feel.
5. Spooky Halloween window lights
Dress up your home with strip lights. Place the strip on the windowsill and cover it lightly with fake cobwebs, which will diffuse the light underneath. Then attach spooky cutouts to the window: a bunch of flying bats or a witch riding a broom, for example. The Lightstrip will cast light upwards, illuminating your sinister display.
Bright idea: Create an ominous atmosphere by bringing the storm inside! Turn your lighting into lightning by using Hue Sync to pair your smart lights with a video or audio clip of a particularly ferocious thunderstorm. Your lights will flash alongside the strikes of lighting and cracks of thunder as if you are in the middle of it all!
There is plenty more to do with your smart Halloween lights if you dare! Check out Hue Labs for more inspiration on Halloween decoration ideas or use a third-party app with special Halloween formulas, such as OnSwitch, to take your decor a step further.
Happy Halloween from Philips Hue! 👻🎃