On the Fourth of July, we celebrate freedom, independence, good barbecue, and summer fun — all with a side of spectacular fireworks shows. Though fireworks are fun, explosives aren't necessarily the safest way to celebrate this holiday at home. Luckily, you can leave the pyrotechnics to the pros and create your own Fourth of July show from the comfort of your favorite lawn chair! 
Use patriotic outdoor lights to set the tone
If you already have multiple outdoor lights, set them to red, white, and blue for some easy patriotic decorations! Using the Hue app, you can effortlessly show your pride and let others know that you're celebrating this quintessentially American holiday.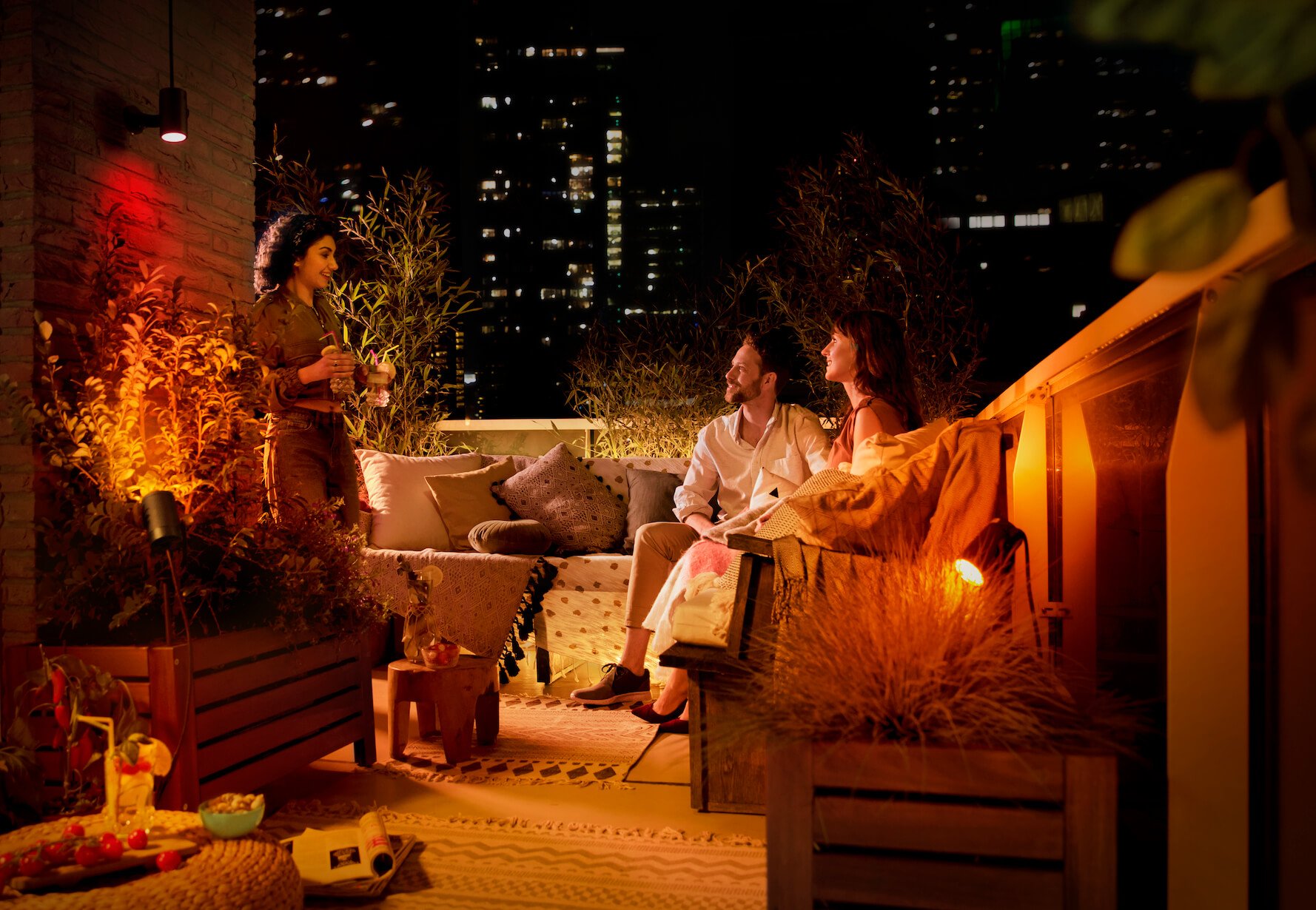 Point three color-capable Lily outdoor LED spotlights — which conveniently come in a three-pack — up high in the trees of your front yard and set their colors to red, white, and blue. This creates a Stars and Stripes backdrop that perfectly complements your other July Fourth decorations.
Bright idea: Set your Outdoor sensor to trigger a scene based on Old Glory — use red, white, and blue to greet your family and friends as they approach the door, creating a whimsical welcome for guests young and old.
Create your own outdoor light show
They may not be fireworks, but smart lights can be just as dynamic! Use the Hue Labs Living scenes Formula to cycle through the patriotic lights. First, create custom scenes — one in red, one in white, and one in blue — for your smart lighting setup in the Hue app. Then, using the Hue Labs Living scenes Formula, set your lights to cycle through the colors, resulting in a good ol' American-themed light show. 
Finish off the show by displaying an American flag in light! You can certainly use Outdoor lightstrips to create your finale, but you can use red, white, and blue string lights to design your big finish if you don't have enough strip lighting.
Bright idea: Include a Hue Go as your table's centerpiece, whether you have a buffet or individual tables. Make it an even more eye-catching display by setting it your Hue Labs Living scenes Formula to match the light show.
Surprise guests with patriotic lights inside
Many people throw an Independence Day barbecue, meaning they and their guests are outside most of the day. For example, set your indoor lights to give your guests a pleasant surprise when they walk in to get another drink. Use your Hue Motion sensor to trigger a special patriotic light scene. For example, set the sensor to trigger a scene with red in the kitchen, blue in the hallway, and white over the dining room table.
Don't forget the music!
No Fourth of July party is complete without some tunes. Spend some time creating the perfect patriotic playlist for the big day — remember to include the classics, such as Grand Old Flag and America the Beautiful, but don't forget to add some dance numbers to keep the party going! If you don't have an outdoor sound system, a Bluetooth speaker lets you take your music outside, transforming your backyard into a dancefloor.
Bright idea: Hue Sync lets you pair the music, movies, and games to your lights via your computer. Sync your outdoor (and indoor!) lights with your playlist to make them dance to the music along with your guests.