Motion sensors have been used in the home for decades, acting as a defender against burglars and banged knees in the dark. While most commonly used with home security alarms and outdoor lights, motion sensors for smart lights are now used widely throughout the home, both inside and out. They do far more than simply trigger lights and alarms, with customisations that allow you to configure their motion sensitivity, how they react when there is daylight, and even what they do based on the time of day.
Whether used to deter intruders, avoid incidents in the dark, or reduce energy expenses, smart notion sensors are a great addition to a smart lighting system — so we'll help you make the most of them.
Tips for outdoor motion sensors
Outdoor motion sensors were once the most commonly used, as it was simple enough to trigger an alarm or an outdoor light. Newer ones can be paired directly with other smart home devices, including smart lights, to trigger all sorts of actions. Take the Philips Hue Outdoor motion sensor: you can set it up so that it turns on any combination of your indoor and outdoor smart lights at any colour, temperature, or brightness, depending on the type of bulbs or fixtures you have.
Back, front, and side entrances 
Though an obvious location for an outdoor motion sensor, it is an important one. A smart outdoor sensor for a front, back, and side door isn't just a way to ward off suspicious visitors in the night — it's a way to make your arrival home a little warmer and act as a courtesy to guests in the evening. Those who have a basement entrance, which are often concealed, should consider placing one there as well.
Install the motion sensor about 6-8 feet above the ground to ensure that you get wider coverage. On many smart motion detectors, you can test the sensitivity of the sensor before you configure it to get the ideal distance and placement.
Garage or driveway
Place a motion sensor above the garage or driveway to make it easier for you and your guests to come and go when it is dark. If you enter your home through the garage, set the detector to trigger its indoor lighting as well.
If you feel that the motion sensor is detecting too much movement — a neighbour on the sidewalk, a squirrel, or even some leaves in the wind — try changing its motion sensitivity. If that doesn't work, angle the sensor slightly more downwards to reduce its range.
Tips for indoor motion sensors
Indoor motion sensors work generally the same as outdoor sensors, but the difference is in how and where they are used. With an indoor motion sensor, one of the most common uses is to trigger nightlights to guide a (safer) path throughout a dark home. These two types of motion sensors are not interchangeable, though, as outdoor motion sensors are usually weatherproof (yes, including the Philips Hue Outdoor motion sensor!).
Hallways
A motion sensor placed in the hallway connecting the bedrooms ensures a safer trip to the toilet in the middle of the night. If midnight trips around the house extend further than the loo, make sure your motion sensor is set to switch on the smart lights all the way to the kitchen (if that's where your night-time wanderings end).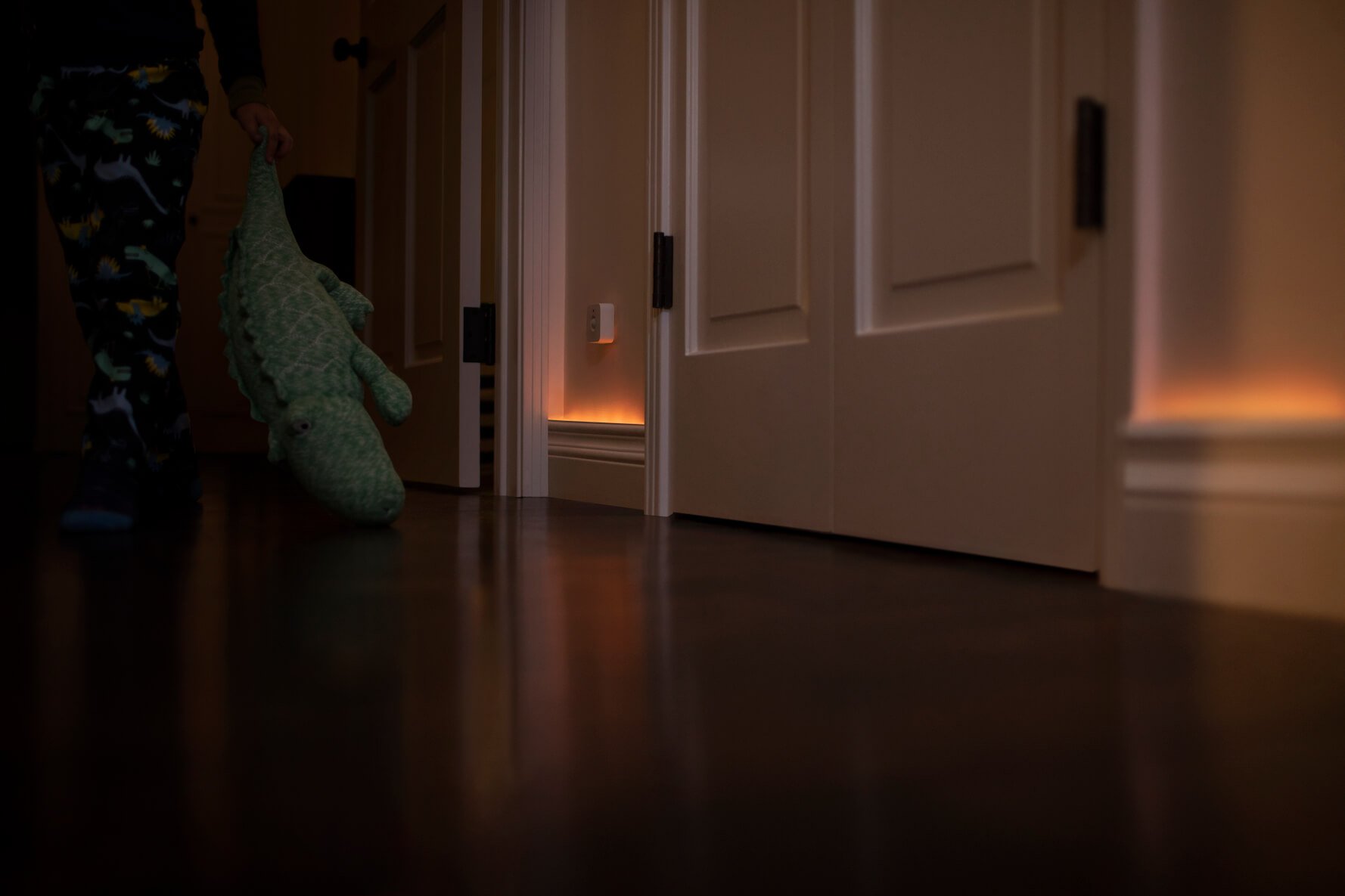 Keep in mind that if you have pets, you might be more careful in where you place your sensor and which lights it turns on. Otherwise, your cat's evening strolls may wake you up unexpectedly.
Staircases
A staircase is one of the best places to install a motion sensor. Trips up and down the stairs are made much easier when you don't have to worry about switching on the light. This is especially useful when your hands are full, such as when you are carrying a load of laundry down from the bedrooms to the washing machine.
Configure the detector in your main staircase to switch on the same brightness and colour as your other nightlights so that you have cohesive lighting during the evening.
Bright idea: Don't forget your basement or cellar stairs — even if you're not often down there, those trips to the basement or cellar usually result in carrying something back up.
Bathrooms
A smart motion sensor placed at the entrance of the bathroom not only helps you find your way — with the right setting, it won't jolt you out of your sleepy state during the middle of the night. Set the motion sensor to trigger a specific dim, warm setting during the evening and bright, cool light during the morning.
Most motion sensors are small and unobtrusive, and — because they are wireless — can be placed anywhere in the home. With a battery life that lasts as long as two years and simple installation, these little smart devices can bring a whole new level of automation to your home.