Designing a child's bedroom presents a unique set of challenges, not least of which is sorting out the lighting. It can be hard to balance a child's desire for whimsy with the practical concerns of a parent.
Here are a few kids bedroom lighting ideas that can help you land on a plan that both you and your child will love.
Proper lighting for all activities
While overhead lighting is still recommended for a child's bedroom, it is important to equip the room with table lamps, floor lamps and bedside lamps. Each of these fixtures play an important role in your child's day-to-day life. Here's how: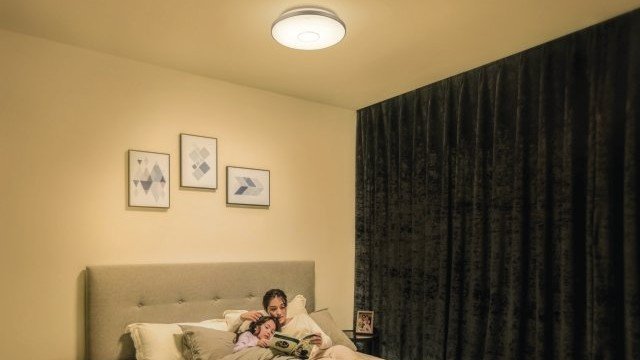 Ceiling lights - flush mount or recessed - brighten the entire room evenly. Whether you have a school-going kid or a baby, this type of lighting provides the type of illumination you need to perform practical tasks - getting your little one ready in the morning, changing diapers, cleaning the room, etc.
Tip: Install smart ceiling lights that provide cool to warm shades of light and can be controlled using a wireless dimmer switch, a smartphone app or even smart home and voice assistants. See the range of smart ceiling lights from Philips Hue. 
Table or desk lamps are suitable to help your child focus on their homework. Let your child pick the table lamp for his or her bedroom. You can make this easier by pre-selecting several options and then letting your child make the final choice. 
Tip: You can help your children focus on their studies by exposing them to cool white lighting. See how you can set the right ambiance with a range of cool white with Philips Hue.
Bedside lamps are a great addition to your child's room. They not only encourage the habit of bedtime reading but also create a nice ambience to bond with your little one over bedtime stories.
Tip: Choose smart lamps that can be set on timers to gradually dim down and turn off, gently easing the kids to sleep. Get a Philips Hue starter kit and start automating your and your child's daily routines with the Philips Hue app. 
Floor lamps are fun and functional. They provide a pleasant atmosphere and illuminate the dark corners of the room, giving your child a feeling of security.
Tip: Colour-changing floor lamps are fascinating to any age group. Install colour-changing LED smart bulbs in existing fixtures and change fill your child's room with their favourite colours. Learn about Philips Hue mood lighting. 
Dimmer switches for easy control
Being in control of their own room can help foster independence and responsibility in children. Aside from giving your child freedom to choose the light level, dimmer switches are helpful for changing the atmosphere of the room. Low light levels are helpful around bedtime, where the reduced light signals our brains to prepare for sleep. Meanwhile, high levels of light can help us wake up in the mornings. Dimmer switches can make one light fixture serve both needs.
Tip: Get dimmer switches that are portable and battery-powered, so there is no installation required. See the Philips Hue dimmer switch.
Light decorations
Lighting doesn't have to be exclusively functional. Add string lights, neon lights, marquee lights, lava lamps, and glow in the dark décor items to boost the fun level of your child's lighting options. Beyond just the fun factor of these lights, decorative lighting can add to the overall ambiance of your child's bedroom.
Tip: Install LED lightstrips under or around your child's bed to create a nice cosy atmosphere. Whether or not your child has outgrown a fear of the dark, this can also serve as a nightlight option. Get creative with the dimmable Philips Hue Lightstrip.
Motion-activated lights
Sleep plays an important in our well-being. Motion-activated nightlights are a great investment, as they give enough soft light for a midnight trip to the bathroom without disturbing your child's sleep.
Tip: Place the motion sensor at a strategic spot and height, to avoid unnecessary activation of your child's bedroom lighting. With Philips Hue you can choose the light setting that you prefer to be triggered by the Hue motion sensor with any movement is detected.
More bedroom lighting