If you're looking for a smart way to transform your kitchen space, updating your lighting is far more economical and way less hassle than replacing the splashback and cabinets. The popularity of open concept kitchens and big kitchens — not to mention the very nature of cooking — makes "brightness" the goal. 
Here's how to brighten up your kitchen with simple and inspiring kitchen lighting ideas.
Pendant lights
Pendants or suspension lights befit all types of kitchens, from traditional to modern and everything in between. As task lighting, they should be centered over the kitchen islands or dining areas in a line, all hanging down at the same height.
Tip: Add a dimmer switch to control the brightness and temperature of your pendant light. See the Philips Hue range of pendants and suspension lights that come with an included dimmer switch.
Hanging lights
If you are looking for a simple yet elegant touch to your kitchen island or dining area, you can opt for the Edison-style LED bulbs that add a vintage-look, or go for an array of modern suspension lights with minimalist design.
Tip: Keep a minimum distance of 30 to 35 inches between the surface of the kitchen island and the bottom of the fixture. For optimal lighting, go for even number of hanging lights depending on the length of your kitchen island or dining table. 
Reclaimed fixtures
Enlist your creativity and add cool lights - like light strings - to antique pieces or flea market finds to recreate a farmhouse kitchen. Need help? Hire a handyman to do the tricky electrical bits. 
Tip: Go a step further and install colour-changing smart bulbs to personalise the ambience for every occasion. See how to create the perfect mood lighting with Philips Hue. 
Task lighting

Often neglected, the area over the kitchen sink needs task lighting, too. Install a recessed light source right above your kitchen sink. Keep the design of the lighting in line with your overall aesthetic, of course. 
Tip: If your kitchen cabinets are above your kitchen sink, then install a Philips Hue smart LED lightstrip under the cabinets to get evenly distributed task light while doing the dishes.
Indirect kitchen lighting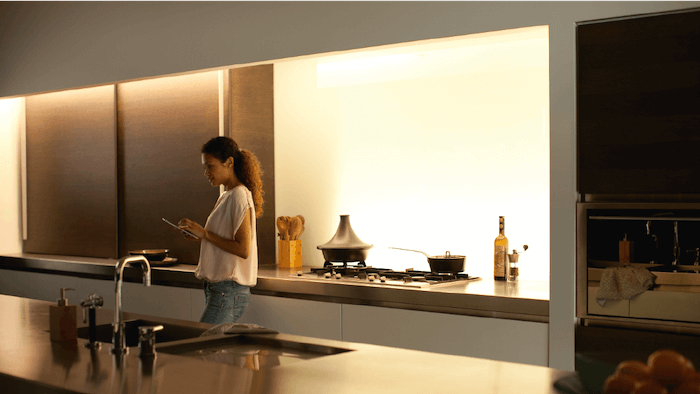 Keep the kitchen lighting low when not in use for food prep with under-cabinet fixtures — hidden from view but positioned in such a way that you can still find the serving spoon you're hunting for.
Tip: Install a portable motion sensor to navigate in the night without having to switch on your kitchen lights manually. Checkout the Philips Hue motion sensor.
Kitchen Lights are more than for cooking
The kitchen is a major hub of household traffic, not to mention an activity center and gathering spot. Don't focus all your energies on improving the visibility for cooks; make sure to address the non-cooking times the kitchen is used for socializing. 
Tip: Include at least one layer of smart ambient light in the forms of wall lights and smart LEDs in shelves and plinths. Check out the range of smart lights from Philips Hue.